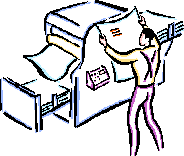 We are monitoring the Print Shop Pro system daily. Due dates will be modified as needed. We will resume processing orders placed here when it is safe to return to campus. When we return we will resume printing with morning pick-ups from 8 a.m. - 4 p.m. at the Mailroom, on the North side of the building directly below P/G.
Staff is also monitoring email. Please contact our team at psp@lanecc.edu for assistance.
Select any one of the quick links below to get started:
---
We will continue to print academic coursepacks for Fall term classes. Please order them through the Titan Store at coursepackets@lanecc.edu or by calling (541) 463-5873 or (541) 463-5680.
---
---